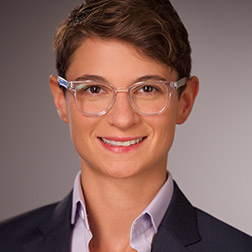 Alexia Korberg (they/she) is a partner in the Litigation Department, where they specialize in complex civil litigation. They represent clients in high-stakes commercial disputes across a range of industries, including private equity, banking, media, energy, insurance, technology, and biomedicine. Alexia has significant trial experience and practices in both state and federal courts, including at the appellate levels, and in arbitration.
In addition to their robust commercial practice, Alexia has also developed a nationally-recognized constitutional impact litigation practice, and has litigated several consequential pro bono matters in courts throughout the country, including before the Supreme Court.
Alexia's first career was in private equity, and they apply their concomitant understanding of finance, securities, and business to all of their commercial representations.
EXPERIENCE
Alexia is an experienced trial lawyer, strategist and courtroom advocate. They have litigated numerous trials and arbitrations, including several recent high-stakes deal-related disputes on behalf of private equity firms in the Delaware Court of Chancery.
Alexia's recent representations include:
Oak Hill Capital Partners and individual directors of Oversee.net at trial in the Delaware Court of Chancery over Oak Hill's redemption of preferred equity, resulting in dismissal of all claims against their clients. The court found that defendants proved at trial that their conduct was entirely fair under Delaware's most exacting standard of review—an exceedingly rare outcome.
The special committee of the board of directors of CBS Corp. in connection with CBS Corp.'s merger with Viacom Inc. and related litigation.
A large U.S. drug store chain at trial with its former CEO, resulting in dismissal of all claims against their client, and a multi-million dollar award on their client's counterclaim.
Bank of New York Mellon in the successful resolution of various regulatory matters relating to the company's foreign exchange services.
A major global insurance group in the trial of a long-running asbestos-related reinsurance dispute, resulting in a favorable settlement after jury selection.
Alexia also has an active pro bono practice. They were part of the legal team that successfully litigated U.S. v. Windsor from the district court to the Supreme Court, helping to establish a constitutional right to same-sex marriage, as well as a series of cases in Mississippi that invalidated the state's bans on both gay marriage and adoption. Alexia has also authored several Supreme Court amicus briefs, including on behalf of lawyers who have had abortions.
They currently represent Mississippi's last remaining abortion provider in challenges to several unconstitutional abortion restrictions. Together with co-counsel at the Center for Reproductive Rights and the Mississippi Center for Justice, Alexia will be representing that clinic at the Supreme Court this fall in Dobbs v. Jackson Women's Health Organization, where they seek to uphold their district court and 5th Circuit victories invalidating Mississippi's ban on abortion after 15 weeks.
Alexia was named a 2021 "Young Lawyer of the Year" by The American Lawyer for their nationally prominent work as a tireless defender of women's reproductive rights, LGBTQ+ people and immigrants, as well as their high-profile litigation achievements and commitment to improving the legal profession. The New York Law Journal named Alexia a "Rising Star" in 2020; the New York State Bar Association presented them with the "Outstanding Young Lawyer" award in 2020; Benchmark Litigation named them to the "40 & Under Hot List" in 2021 and 2020; the LGBT Bar Association recognized them as one of the "Best 40 LGBTQ+ Lawyers Under 40" in 2019; and the American Bar Association honored Alexia with its "On the Rise Top 40 Young Lawyers" award in 2018.
Alexia's work has been featured in The New York Times, The Washington Post, the National Law Journal, The American Lawyer, Slate and elsewhere, and they are regularly invited to speak about their practice.
Alexia earned their B.A. from Columbia University, summa cum laude, and their J.D. from Yale Law School.  They serve on the Board of Directors of the Point Foundation, the nation's largest scholarship-granting organization for LGBTQ students of merit.